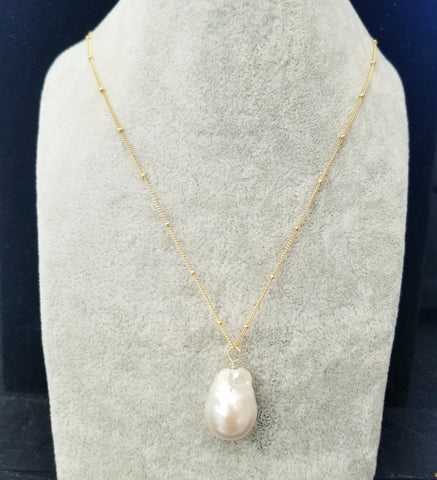 Barroco Pearl Pendant Necklace 14K Gold Filled or Sterling Silver satellite Chain
Length: Necklace 16"
Extension: 2 inches
Available as well in sterling silver
Cubic Zirconia
Made to order.
Ship within 7 business days
*************************
The Hamsa Hand is an ancient Middle Eastern amulet symbolizing the Hand of God. In all faiths it is a protective sign. It brings its owner happiness, luck, health, and good fortune. The hamsa hand has a wide variety of different spellings which includes hamesh, hamsa, chamsa, and khamsa
The
 Evil Eye is one of the strongest symbolic images in the world. The evil eye meaning dates back almost 3,000 years to ancient Greece and Rome. Wearing an evil eye as an amulet is believed to provide protection against evil forces. The evil eye meaning has symbolism in almost every country in the world and in every religion, such as Judaism, Islam, Hindu, Buddhism, and Christianity.
The evil eye is a look given to inflict harm, suffering, or some form of bad luck on the person that it is cast upon. Giving someone "the evil eye" is a look which clearly states that one intends for something bad to happen to the other person, either out of jealousy or pure malice. It is believed by many cultures that the look is powerful enough to bring about actual disaster for the unfortunate person that is the receiver of the glare.
---
We Also Recommend
---